My article in FORBES published 27th of May 2017.
Self-driving cars are enjoying increasingly better press and attracting a growing interest. Industry is keeping a close eye on the achievements of Tesla and Google. The latter has been releasing regular reports showing that autonomous vehicles are clocking up ever more miles without failing or endangering traffic safety. A growing sense of optimism regarding the future of such vehicles can be felt all across the automotive industry. Their mass production will soon be launched by Mercedes, Ford, Citroen, and Volvo.
Nearly every major manufacturer today has the capacity to build a self-driving car, test it and prepare it for traffic. But this is only a start. Demand for such vehicles and the revenues derived from their sale will continue to be limited for a while due to the complex legal and… ethical questions that need to be resolved.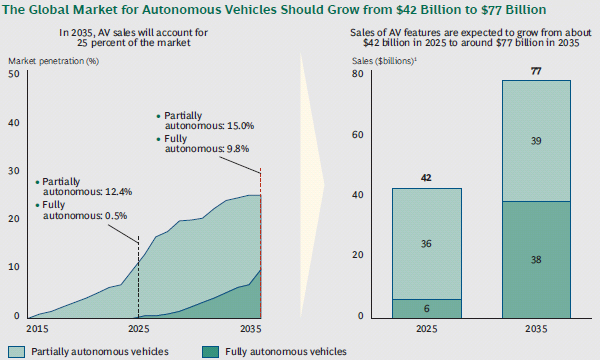 Autonomous cars market share will reach 13% of all vehicles on the road by 2025, with a worth of $42 billion, and reach $77 billion by 2035, accounting for 25% of all cars. Source: BCG
….
Link to the full article (in Polish)
Related articles on my blog:
– The invisible web that surrounds us, i.e. the internet of things
– According to our computers … You don't exist
– What a machine will think when it looks us in the eye?
– Fall of the hierarchy. Who really rules in your company?
– Blockchain has a potential to upend the key pillars of our society