Do not be afraid of future robots lurking around the corner to get us. This only happens in movies. Instead, you should brace for more complex scenarios. Biotechnology, genetics and artificial intelligence will put Homo Sapiens on an evolutionary path that will forever change the face of human existence. This is how one of the most-popular contemporary thinkers, the Israeli historian Yuval Noah Harari, sees our future in the next century. The views expressed in his books (whose sales are soaring, as they are translated into many languages) and articles (appearing in top papers and magazines, including The Guardian, Wired, and The New York Times) attract the attention of humanists and high tech experts alike. Suffice it to say that his books have been recommended by both Mark Zuckerberg and Bill Gates.
A historian discussing algorithms
Harari has made an incredible career. This relatively unknown historian specializing in medieval studies suddenly found himself being invited to debates on artificial intelligence, neurotechnology and the threats in the age of technology. He was propelled to fame by the publication of his 2014 book "Sapiens. A Brief History of Humankind", translated into many languages. "Homo Deus, A Brief History of Tomorrow", published in 2016, also attracted great interest. Another one of his books, which is a collection of essays entitled "21 Lessons for the 21st Century", appeared a few months ago.
How to avoid slavery
It is virtually impossible to comment on every theme and issue raised by Harari. These range from biology, to anthropology, history, culture, economics, to history of civilization. I will therefore limit myself to a select few, which often come up in interviews and public presentations, and which concern the impact of technology on our lives. Harari writes not only about the ancient history of mankind, but also about the scenarios that await us in a few dozen years. He does not shy away from bold, controversial statements. And he leaves no illusions. During the next century, technology will profoundly transform our lives. Nobody knows exactly what those transformations will be. However, Harari believes that what we teach our children today will rapidly become irrelevant. While a 1000 years ago, people were able to predict life 50, 100, or 150 years into the future and have a rough idea of what the next epidemics, wars and disasters might be like, and how best to ensure their survival, today's predictions are largely worthless. Admittedly, Harari is not generally known for optimism. In one of his scenarios, a privileged elite uses data and information to subjugate the rest of humanity. Knowledge, data and information will be the subject of speculation, fought over for influence. It is data rather than land or other resources that will enable people to seize power. Humanity may split into two groups: the lucky ones who manage to jump on the bandwagon called "progress", and the less fortunate people who will have fallen by the wayside, says Harari.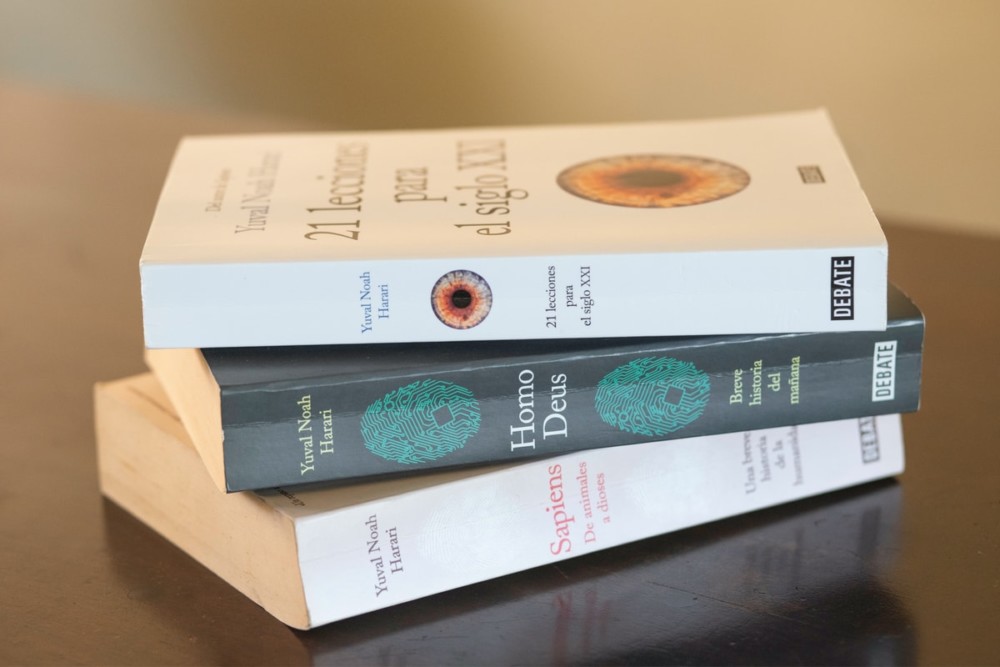 How not to get hacked
According to Harari, it is humanity's duty to prepare to live in a world in which technology constantly modifies human bodies (through genetic engineering, plastic surgery, chip implantation, and having people wired to connect directly to devices). In this world technology will drive the emergence of a new kind of consciousness. While technology will still be harnessed to produce conventional goods, such as food, clothing, and means of transport, the key focus of the most sophisticated technologies will be to modify, transform and enhance the human body.
All this will be made possible by algorithms constantly monitoring the activity of our hearts, eyes, and brains. As living beings, we will undoubtedly acquire new abilities, but new threats will also loom. The hacking of computer accounts, bank accounts and e-mails has become part of life at the turn of the 21st century. A few dozen years later, our biggest fear may be to have our bodies hacked.
How to be a happy processor
It is hard to foresee how exactly our human consciousness and mental capabilities may evolve. One can nevertheless be certain that changes are coming. Without going into specifics, Harari dispels our illusions. He urges us to forget the notion that human intelligence and the faculties of the human mind will remain unequalled. Even today, algorithms understand us better than we do ourselves. Or how else could we explain the uncanny ability of algorithms to suggest to us just the right goods and services while we browse the web? Oftentimes we ourselves could not think of a specific car model, holiday package or LinkedIn friend that we appear to need.
Remarkably, Harari's predictions coincide with the postulates proclaimed by the proponents of Dataism. According to this concept, neither human feelings, decisions and choices nor humans themselves are the center of the universe. Instead of seeing our species as empowered subjects, as the classical approach would have it, Dataism proposes to view us as one of many data processing systems in existence, with individual humans serving as processing units. The evolution and progress of mankind depends vitally on how well we exchange and transmit information. Every step forward taken by mankind can be attributed to improvements in its ability to manage data, says Harari.
What to do now
The above claims may seem extreme, and perhaps outlandish for some. One must nevertheless admit that Harari's argumentation is very compelling. If we agree that he is making a valid point in his visions, the next logical question will be what we can do about it. In an interview, Harari advises: take things seriously. And don't forget that the changes will become political. Politicians, scientists and corporations will end up in positions of power. Do not leave all choices to them. We need to find our own way …
On a personal level, Harari may realize this in meditation, which he practices daily for two hours before and after work. Perhaps meditation gives him a sense of empowerment and allays his anxieties. One can only hope that his books will put you at ease rather than upset you.
. . .
Related articles:
– Technology 2020. Algorithms in the cloud, food from printers and microscopes in our bodies
– Learn like a machine, if not harder
– Time we talked to our machines
– Will algorithms commit war crimes?
– Machine, when will you learn to make love to me?
– Hello. Are you still a human?
– Artificial intelligence is a new electricity