Artificial intelligence – real threats or groundless fears?
The world's greatest thinkers, including the author Stanisław Lem, the Nobel prize winners Stephen Hawking and Frank Wilczek, and the mathematician John McCarthy, have warned against the rising threat from intelligent machines. The threat isn't only about humans losing their jobs to machines that provide services or manufacture goods, but also about the survival of the human civilization. Should we be worried?
Regardless of the alarm bells sounded by scientists and philosophers, I wonder what artificial intelligence has to offer to society, businesses and our civilization? Will machines ever be able to compete with people intellectually? Will machines ever pose a real danger to humans? Before attempting to answer these questions, it's useful to try and define what artificial intelligence is.
Defining artificial intelligence
To begin with, one should distinguish robots, which are simple automatons, from artificial intelligence. While robots are mechanical machines designed to repeat a large but limited number of events in a well-defined environment, artificial intelligence has the ability to self-learn. Intelligence is not only about performing complex tasks even if very complicated. The distinguishing feature of AI is learning and deciding when, where and how to perform a task. This precisely is what the DeepMind AlphaGo project was about. It succeeded in achieving things that have never been done before. The machine was programmed to play the game of Go. It learned all the master strategies, stored them in its enormous database and ultimately learned how to win. The learning process involved playing thousands of matches against people and then millions against another machine of its kind (which was the previous model). DeepMind learned how to be a master. The machine learned from one game to the next playing against a master, as observers have confirmed.
Artificial intelligence in the real world
Artificial intelligence is mostly used to analyze large quantities of data. It is helpful in a range of activities including weather forecasting, speech recognition and real-time translation, as well as forecasting the need to repair telecommunication and power networks based on the probability of specific events happening. AI does more than mere calculations. For example, its soft skills can be applied in candidate selection for specific jobs. AI matches people with tasks by assessing their competencies, preferences, dedication and emotional status. All these characteristics are difficult to capture and elude simple mathematical analyses.
It isn't hard to picture a world in which machines, equipped with advanced speech recognition tools, handle customer complaints and even conduct entire conversations. The big question is whether people would feel comfortable talking to such machines. Will they miss the empathy and understanding that a human interlocutor can provide? It's worth remembering that to date no machine has passed the famous Turing test in which a human determines whether a conversation is conducted by another person or a machine capable of using natural language. The test is to prove that a machine is capable of human-like thinking. It is considered as passed if a human is unable to tell whether a speaker is a machine. However, artificial intelligence is making constant headway. In 2011, the CleverBot program fooled more than 59% of its interlocutors who were convinced they were dealing with a real person.
However, technology is susceptible to abuse. This has been demonstrated by controversies surrounding Tay, a chatbot with elements of artificial intelligence based on a Microsoft's neural network. Within just 24 hours, Microsoft had to shut Tay down after a "coordinated attack by a subset of people" explored the chatbot's ability to learn and, in the course of simulated debates with humans, taught it to exhibit racist behavior.
If used properly though, artificial intelligence has the potential to produce numerous benefits. It can help make decisions, design new items or analyze complex events. However despite such upsides, I am confident it will never replace humans. Never. This is because people have traits that artificial intelligence will never possess: unpredictability, lack of logic and emotions. But, then again, is it really never?
Related articles:
– Artificial Intelligence as a foundation for key technologies
– End of the world we know, welcome to the digital reality
– Blockchain has a potential to upend the key pillars of our society
– The brain – the device that becomes obsolete
– Augmented Reality. Seeing more than just a Pokemon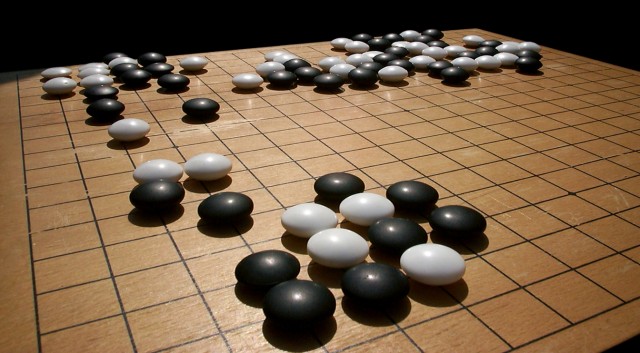 Game of GO