Most people today find it difficult to keep up with the break-neck pace of technological advances. Scientists increasingly claim that to understand the future, which surprisingly is now, people have to adopt their brains. Unless brains adapt, a wall of misunderstanding will grow between their owners and modern technology.
Technology conferences dedicate ever more time to the impact of the expansion of computer technologies on human evolution, people's lifespans and the capacities of the human mind. How does one observe and understand the developments that will not only change the way we communicate but may also affect the structure of our brains?
I am certain the times we live in are extraordinary. Every day, we witness developments that we could merely speculate about only a dozen years earlier. I'm in the habit of giving myself a few moments every morning over breakfast to bring myself up to date on where the world of technologies is heading.
It is easy to forget one is carrying the whole world in one's pocket. What being connected to the web via a smartphone means to us mainly is an ability to access company and personal e-mails, social media, some YouTube entertainment and interact with our close ones. However, just as easily as we communicate with our friends, we can tap into the most outstanding minds of our time.
I was unable to attend the Global Summit held a few days ago in San Francisco but all I needed to catch up on what happened there was to browse, for a mere half an hour, the website of the Singularity University established by a leading futurologist and Google employee, Ray Kurzweil. As I found out, quite a lot did indeed happen there. The range of topics raised at the conference and the quality of the theses its attendees put forward was truly inspiring. The authors brought up the issues which I consider to be key to our civilization. They gave lectures on artificial intelligence, biotechnology, virtual reality, unmanned transportation and nanotechnology. They asked and tried to answer questions, presented visions, projected the future and at times provoked their audiences. Why are we so sure that nanotechnology will improve our future? Will contemporary technologies extend our lifespans? What are the prerequisites for creating artificial intelligence? Will autonomously thinking computers deserve to be granted fundamental rights? Is evolution coming to an end and moving into the realm of cyborgization? These and other similar questions were asked in fascinating lectures.
The big visionary Kurzweil
It is only appropriate to devote a little space here to the conference's patron: Singularity University. Some call it the world's most singular university, as the name suggests. The school has summarized its mission in a single sentence as being: "… to educate, inspire and empower leaders to apply exponential technologies to address humanity's grand challenges". This extraordinary institution, home to dozens of intellectuals, researchers, technologists, ethicists and doctors, has been created through the imagination and determination of Ray Kurzweil, an outstanding man who for decades has been predicting the future of humanity. The world of digital technologies sees him as a prophet of the digitization era. Today, Kurzweil runs a team of dozens of people at Google and engages in the most innovative projects. Polish-language readers had their first chance of learning about his ideas in 2005 upon the publication of his best-known ground-breaking book "The Singularity is Near". In it, the celebrity visionary famously postulated that we are entering a breakthrough period in human history. Briefly put, this founder of Singularity University believes that "we will become human bodies version 2.0 ("Billions of nanobots will travel through our bloodstreams. In our bodies, they will destroy pathogens, correct DNA errors, eliminate toxins and perform many other tasks to enhance our physical well-being. As a result, we will be able to live indefinitely without ageing …") and human body version 3.0 ("We are becoming cyborgs").
I am one with my smartphone
Recently, Kurzweil, who also leads a team of people developing artificial intelligence tools, including "chatbots", which are capable of talking to each other and display characteristics of human personality, gave an interview to the U.S. edition of Playboy. In a fascinating conversation, he said: "My smartphone is several thousand times more powerful and millions of times less expensive than the IBM 7094 computer I used when I was an undergraduate at MIT in 1965. (…) If I want to multiply the computational and communication power by 10,000–that is to say if I need to access 10,000 computers—I can do that in the cloud. (…) This little Android phone I'm carrying on my belt is not yet inside my physical body, but that's an arbitrary distinction. It is part of who I am". As I read these and other similar words over breakfast, I realize I am part of a huge process of global technological revolution. Perhaps I will even become part of evolutionary changes in the human species. I may begin experiencing that more fully in 2029, the year which the author of Singularity believes will, for the first time ever, see the blurring of boundaries between living and non-living organisms and the intelligence of the latter exceed that of humans by a factor of several million.
My connection with thoughts
As I log onto the Singularity University website in between cups of coffee, I realize what great progress has been made in recent years in accessing knowledge, new information and inspiring ideas. Still over breakfast, I read the proposals of the greatest intellectuals dealing with the fates of the Earth and us all. As I perform simple day-to-day tasks, I instantaneously connect my mind to a repository of global ideas. As I surf the web, I feel I am part of the debate, which I find essential. This helps me grow and modify my views. I take pleasure in passing the knowledge on to others. And I do all this without leaving home using only my smartphone. A trivial benefit of the Internet Age? Perhaps. But it also illustrates that we have come an incredibly long way in developing communications and access to knowledge.
Related articles:
– Fall of the hierarchy. Who really rules in your company?
– Artificial Intelligence for all
– A hidden social networks lurks within your company. Find it!
– Chernobyl – the bomb is still ticking
– Augmented Reality. Seeing more than just a Pokemon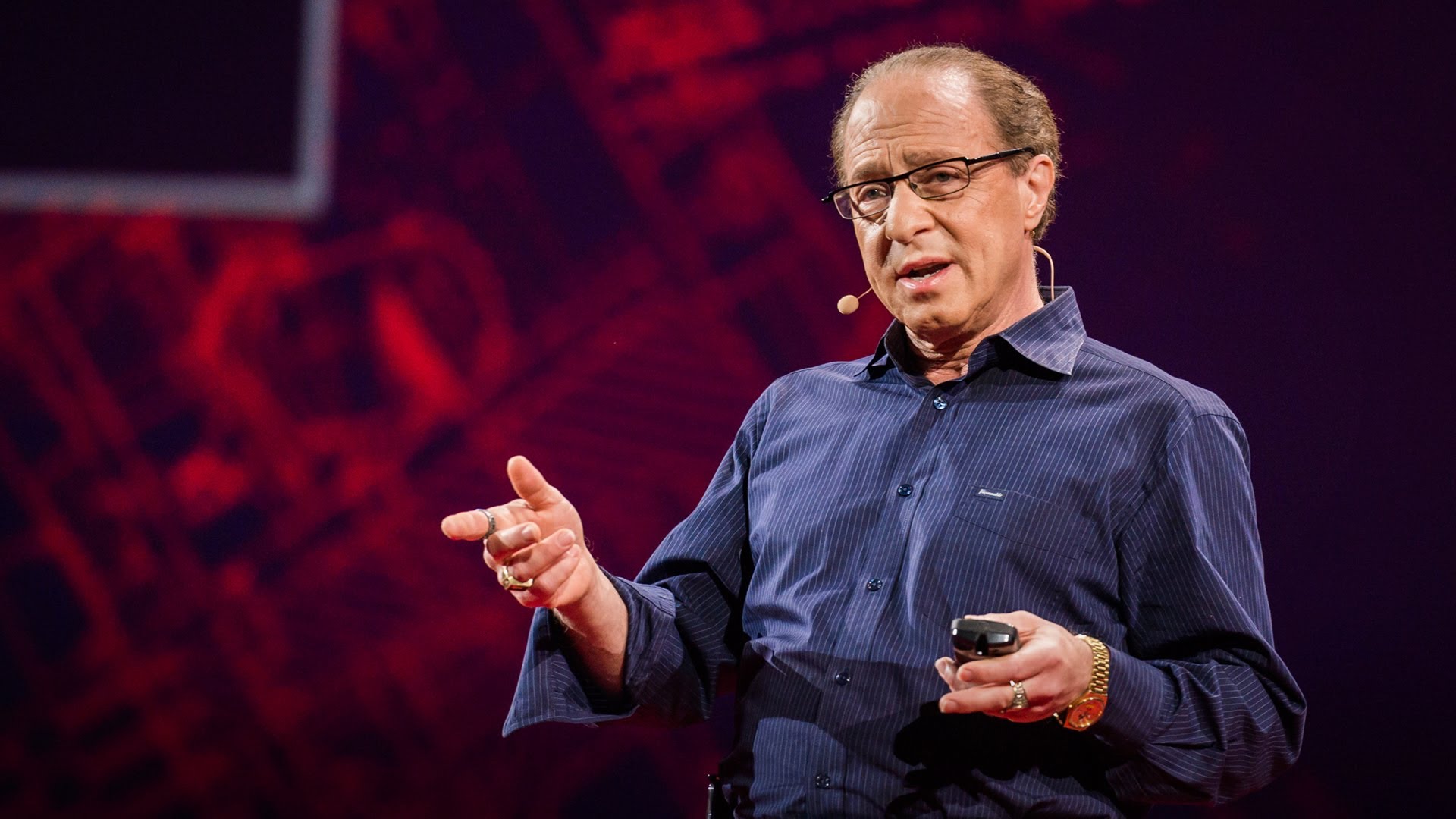 Ray Kurzweil on Artifficial Intelligence