Interview for Computerworld magazine
I am joining the team as a new captain to bring out its creativity and business development potential.
CW:  Does new CEO mean a new era for Atos Poland?
Norbert Biedrzycki:  Enter of a new boss to such dynamic organization as Atos Poland is should be seen in two dimensions. First and the most important one is a new perspective for the entire company. New CEO brings fresh look to business and thanks to his own experience is able to estimate the potential and opportunities in front of the company. In my opinion we have big opportunities of development and together with whole team we will be working to use them in the most efficient way. The second dimension of the change of CEO is a personal aspect. For me, the experienced manager, who looks at business with passion, a new company is a great challenge, which motivates me to share my knowledge and best practice with my colleagues.
CW:  Atos is a company of a well-established position. Is it still able to surprise IT market?
Norbert Biedrzycki: Several weeks ago we announced to the market the launch the world's most efficient supercomputer – Bull sequana provided by Bull – technology brand of Atos. This is a first exascale class computer, which will be capable to process billions of billions operations per second, using 10 times less energy than current systems. This is the most advanced solution in the world, designed for integration technologies of the future. Bull sequana is already being implemented in French Alternative and Atomic Energy Agencies (CEA). In Poland we are already prepared to offer it to all the interested companies and institutions. Its enormous capabilities can find use in astronomy, power engineering, analysis and prediction of meteorological phenomena, medicine, banking or security monitoring in a real time. Everywhere, where an exceptional computational power is needed, our sequana generation computers come into use.
CW:  Apart from Bull sequana, do you offer any other innvovative solutions?
Norbert Biedrzycki: Yes, of course. Except for the most recent information about supercomputer, not a long ago we announced as well, that we will co-create the first Polish commercial satellite. Atos Polska as one of only two companies (all the other participants are the science and research institutions) became a member of consortium realizing works on SAT-AIS-PL satellite, which will be a part of maritime traffic safety system. Automatic Identification System (AIS) built in it, is a system of short-range coastal tracking of ships and preventing their collisions. For the beginning Atos team working on this project will consist of several high-class specialists. Then it will most probably be extended to over a dozen of people. This is not the only research and development project we realize, but the only one we are allowed to speak out loud about. Atos is an innovative company – in the world there is a constant digital revolution happening every day and we are its active participant and provider of modern solutions.
CW:  We are approaching Olympic Games Rio 2016. Atos is an official partner of this event. What is your role?
Norbert Biedrzycki: Atos is building a long-term relationship with International Olympic Committee, which resulted with numerous successes dated since the time of Summer Olympic Games in Barcelona in 1992. Thanks to customer's trust in our solutions, we recently extended the contract for the provision of IT services for International Olympic Committee until 2024.
The scale of the project is comparable to providing services to the company of 200 000 employees, which directs its transmission to 4 billion customers all over the world, working 24/7 mode and in addition to that, running operations on a new territory every 2 years. This is an event, where in 37 sport facilities equipped with complete IT infrastructure 70000 volunteers, 30 000 journalists, almost 15 00 athletes as well as 300 000 other people holding various types of accreditations meet.
Despite of these enormous numbers, we are proud of zero result of incidents related with IT security. To prepare ourselves for 3 weeks long culmination, we work over 4 years: we run 200 000 hours of tests on 80 different systems and applications basing on the work of 250 servers. This year for the first time we will use Cloud-based solutions, which will enable efficient, flexible and scalable operations. International Olympic Committee knows our company and knows we have competencies and experience to support organization of such a huge event as Olympic Games. We are proud that Atos can be such an important partner in preparation and implementation of the Olympics.
CW:  What shall we therefore wish you and the company?
Norbert Biedrzycki:  I think "Good luck!" will be just enough. The rest we are going to work out together within this year.
CW:  Good luck then and thank you for the interview.
Norbert Biedrzycki:  Thank you very much as well.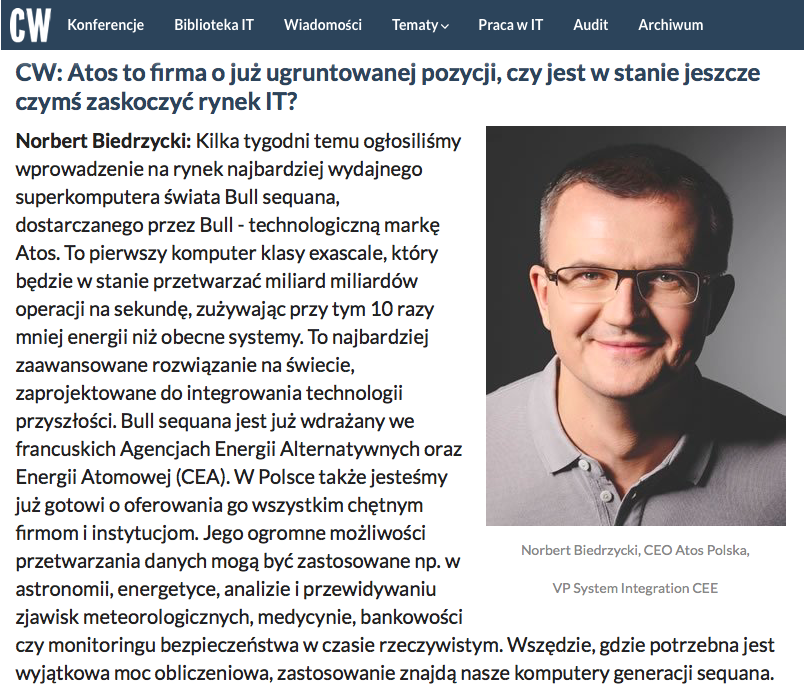 Link:
http://www.computerworld.pl/news/405453/Superkomputery.satelity.i.Olimpiada.innowacje.Atos.na.swiatowa.skale.html