Automation of work, robotization and artificial intelligence will reduce demand for human labor. By 2050, more than 250 million people will lose their jobs. Ensuring a basic income for citizens will become a political issue.
Inevitable changes to work and pay schemes
The income distribution system known in the 20th century is changing irreversibly. Globalization, human migration, technological changes and flexible labor markets provide ever more income to employers without increases in workers' real wages. While the costs of living keep climbing, net incomes are dropping and becoming unstable. Constant job insecurity, and uncertainty about income levels will not be remedied by regulations governing minimum wages, tax relief and additional non-monetary benefits. Automation of work, robotization and artificial intelligence will reduce the demand for workers. New professions and jobs will emerge but, as reported by analysts, the changes will put more than 250 million people out of a job by 2050. Briefly put, ensuring a basic income guarantee will become a political issue.
The Finnish experiment
Since January 1, 2017, the Finish government has been implementing a project that only recently appeared to be a pipe dream. Two thousand unemployed people have been offered an unconditional monthly income of €560. The pilot is supposed to last through the end of 2018. The benefit will be provided even after the unemployed recipients take up employment. Should the project succeed, every Finn will receive close to €900 per month from the state. A similar plan has been announced by Ontario, Canada. Its program is to be launched in mid-2017.
We increasingly hear from various parts of the world about similar schemes being considered, analyzed and perhaps soon launched. As I write this article, comparable solutions are being discussed in California, Catalonia and Glasgow. Their primary aim is to find out whether unconditional basic financial benefits will restore a sense of stability in the lives of jobless people and drive them to pursue employment and self-improvement.
Here is what Mark Zuckerberg said in his speech at Harvard University in late 2016: "To keep our society moving forward, we need a generational challenge – to not only create jobs, but create a renewed sense of purpose and take on big meaningful projects. Our generation will have to deal with millions of jobs replaced by automation. We should explore ideas like universal basic income to give everyone a cushion to try new things. We're going to change jobs many times, so we need affordable childcare and healthcare. And as technology keeps changing, we need to focus more on continuous education throughout our lives. And yes, giving everyone the freedom to pursue purpose isn't free."
Basic income guarantee
While basic income may come in various forms, it is always a certain guaranteed sum of money offered to every citizen to cover their living expenses and ensure their sustenance. The state will provide every citizen, regardless of their wealth, with an amount fixed by law with no strings attached, such as the requirement to perform work in return. The idea is to ensure that every member of society receives a share of the overall income independently of their needs.
A few months after the adoption of unconditional basic income in Finland, the first promising effects of the experiment became evident. Interestingly, they were seen in people's attitudes. Better food, health and education, in the form of training courses and self-learning opportunities, improved work efficiency and production and service quality while reducing social inequality. Other benefits included a rise in self-employment, especially in the service sector.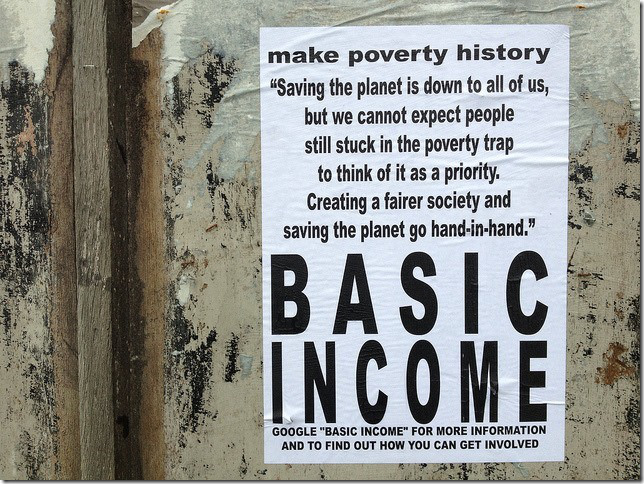 The curious appeal of Basic Income Guarantee. Source: SemiPartisian
A future in which machines do our work for us
This vision is not as unattainable as it may seem. As prophesied by the renowned futurologist and founder of Singularity University, Ray Kurzweil, 2050 will see the birth of a Super Intelligence and 90% of all manual labor performed by machines. What will 9 billion people live off? Basic income and a tax on machine work and machine-to-machine data exchange transactions seems to be the only way forward for humanity. Additionally, the prices of products, services and data designed and produced by machines will be very low. In the future, the markup will not include the cost of human labor.
To adopt unconditional basic income, we have to make sure that the handout does not demotivate people from doing their jobs. While the Finnish and Ontario experiments have indeed been successful, they were only local and not expanded to a global scale. How will world markets and economies respond to the launch of unconditional universal income? There is no way of knowing. Enthusiasts of the idea claim there is nothing to fear, as work (not necessarily for money) is a fundamental human need, a part of their nature, and that people will never give it up for a free handout. They think that all the scheme will change is the way wealth is distributed across society. Those who work overtime will stop doing so, thus making space and creating demand for new workers. They themselves will meanwhile devote more time to their families and leisure pursuits. Supporters are confident that the basic income guarantee will not destroy the job market and instead make it more flexible. A pipe dream? I don't think so.
Why we should give everyone a basic income. Rutger Bregman at TEDx
Reasons why I support the idea of basic income guarantee
There is a number of such reasons, based mainly on the outcomes of the Finnish and Ontario experiments. These can be grouped as follows:
Redefining ourselves. Basic income will give us the space we need to reflect on how and why we work. It will allow us to revise our career choices and may prompt us to change our jobs. Basic income may inspire us to pursue further education. It will help each of us decide what we really want to do without concerns about making a living weighing in on our options.
Cutting red tape. As one of the simplest taxation schemes, basic income guarantee will cut the bureaucracy that plagues every welfare state. It will also reduce the volume of tax-related documents in circulation and significantly simplify tax systems. Theoretically at least ☺
Social justice. Nobody will need to cheat the system to obtain the basic income, as everyone will be automatically entitled to receive it. Poverty and social inequalities will be stamped out. Innovation in the world of politics, society, economics and technology will become a daily occurrence.
More time for pleasure and self-improvement. People will spend less time at work, if at all, without jeopardizing their income. We will focus on the things we find to be significant. At the macroeconomic level, this will help better distribute jobs as people who work less will vacate jobs for those who are currently excluded from the labor market.
 Better distribution of technology benefits. Substantial advances in technology and rapid increases in production capacities are bound to dramatically change the world of employment and the distribution of wealth. Wealth will be created and distributed as more added value is generated, contributing to overall progress. Wealth will not be inherited as it is today.
Some may take all this as encouragement to return to the socialist ideas of equal pay for all and equal wealth for each citizen. I don't support such ideas, but then perhaps in the future, once machines perform our jobs, people who don't find creative roles for themselves and are unable to settle into the new reality, will find unconditional basic income to be their only source of sustenance.

Universal Basic Income – Pilot Programs
Related articles:
– A machine will not hug you … but it may listen and offer advice
– According to our computers … You don't exist
– What a machine will think when it looks us in the eye?
– End of the world we know, welcome to the digital reality
– Artificial Intelligence – real threats or groundless fears?
– Work of the future – reinventing the work
– Modern technologies, old fears: will robots take our jobs?