What is blockchain?
Blockchain is a technology used to store and transfer information on Internet transactions arranged into successive data blocks. A single block contains data on a specific transaction. Once a block fills up with data, another one is created, followed by another and yet another, until an entire chain is formed. A new block appears in a blockchain every 10 minutes on average. A block may be used to send information on multiple transactions that concern commercial deals, ownership titles, company shares, the sale and purchase of electrical energy and the purchase or sale of currencies, including cryptocurrencies (i.e. electronic currencies).
How does blockchain work?
In essence, blockchain helps maintain a shared collective digital transaction ledger whose identical copies are distributed across the web. The technology relies on a peer-to-peer network operated without central computers or systems that manage and validate transactions. Every computer in the network may take part in transaction transfers and validation. In the case of blockchain, computers work with blocks kept in transaction ledgers. The ledger is accessible to anyone and fully secured against unauthorized access by means of sophisticated encryption tools. User access is limited to their own transactions. This recording method makes the transactions public and accessible to the extent allowed by a given user's authorization rights. The entire transaction history from the very inception of the blockchain to the present, can be viewed and verified.
What is blockchain used for?
As of to date, blockchain makes possible a range of diverse transactions (commerce, currencies, shares, electricity). Work is under way to use blockchain as a banking ledger, a document authentication system, a digital signature in a state administration and for document notarization. All such transactions may be performed outside of the age-old system, without the involvement of fiduciaries, directly between transaction parties. The data blocks of blockchain networks can be used to store any types of transactions. One of the possible applications are cryptocurrencies such as bitcoin. While the future of bitcoin itself is fairly uncertain, many industries, including finance, energy and trade, have recognized the potential of both its technology and transaction platform.
Is the technology secure?
A blockchain serving as a transaction ledger cannot be counterfeited by means of today's technology and processing power. To crack a blockchain network, one needs the computational power of an estimated half of the Internet. However, with the advent of quantum computers, new cryptographic protections will become necessary. The transactions encoded in a blockchain are irreversible. An attempt to modify one block changes the entire chain down the line. Should someone try to cheat, alter an existing transaction or enter an unauthorized deal, blockchain nodes will, in the validation and reconciliation process, discover the single copy of the ledger whose transaction is inconsistent with the transaction record of the network and refuse to add it to the blockchain. Data, transactions and their sequences are secured against any attempts at counterfeiting or tampering. The philosophy behind blockchain, advanced mathematical methods and cryptographic protections make the data contained in transaction ledgers trustworthy.
Who will be the first to use blockchain commercially?
The first sector to appreciate the potential of blockchain but also to recognize the risk that it poses to its status quo was finance. Since 2014, start-ups dedicated to developing blockchain-based cryptocurrency technologies have been cropping up in great numbers. New industries have emerged, referred to as FinTech (for finance and technology) and Insurance Tech (or InsurTech). The traditional financial sector has been seeing a lot of developments. In 2015, a consortium was set up comprised of banks and FinTech companies with a mission to advance blockchain. As of September 2016, its members included Citi, Bank of America, Morgan Stanley, Societe Generale, Deutche Bank, HSBC, Barclays, Credit Suisse, Goldman Sachs, JP Morgan and ING. In July 2016, Citi announced the creation of its own cryptocurrency called Citicoin. In October, the FinTech start-up Chain.com was given US$ 30 million in financing (from Nasdaq, Visa, CapitalOne, Orange and Citigroup) to develop a solution that would make it possible to send various valuable assets (loyalty points, shares, coupons and various financial instruments) on the web.
The next to take notice of the blockchain's potential was the energy sector. Blockchain is perfectly suited for settling energy sales transactions concluded between such small energy producers as households and their customers, energy users, including dispersed buyers, among them electric cars. Notable players in the field are Elon Mask and SolarCity, which invest not only in electricity production and storage but also in the distribution and settlement of transactions with the use of blockchain. These are only some of the most obvious applications.
Related articles:
– Machine Learning. Computers coming of age
– The invisible web that surrounds us, i.e. the Internet of Things
– Artificial Intelligence as a foundation for key technologies
– End of the world we know, welcome to the digital reality
– What are the bitcoins? All you need to know
– Blockchain has a potential to upend the key pillars of our society
– Work of the future – reinventing the work
– On TESLA and the human right to make mistakes
– Sagrada Familia and the Internet of Things
– Blockchain – the ultimate financial crash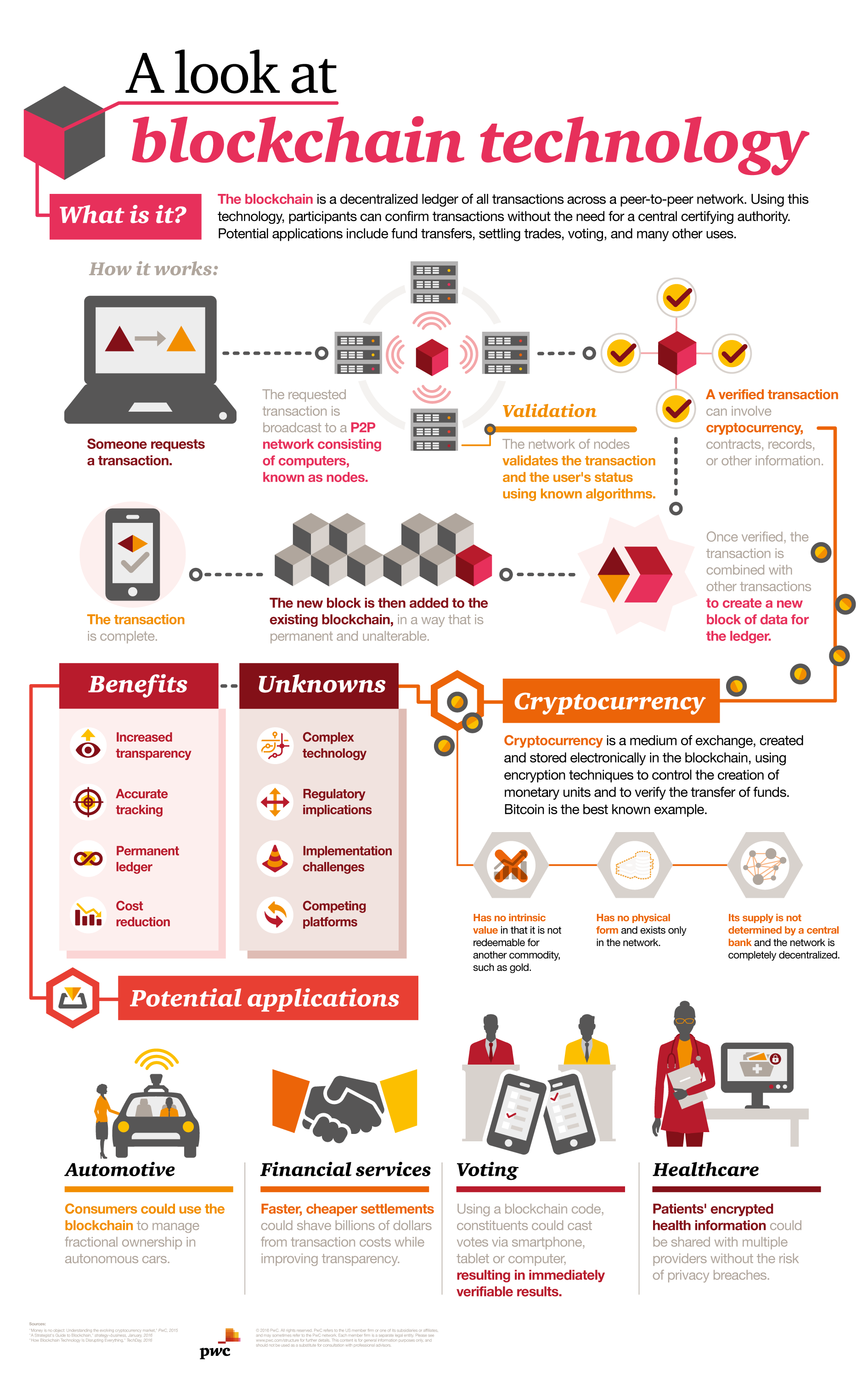 How blockchain technology works – source: PWC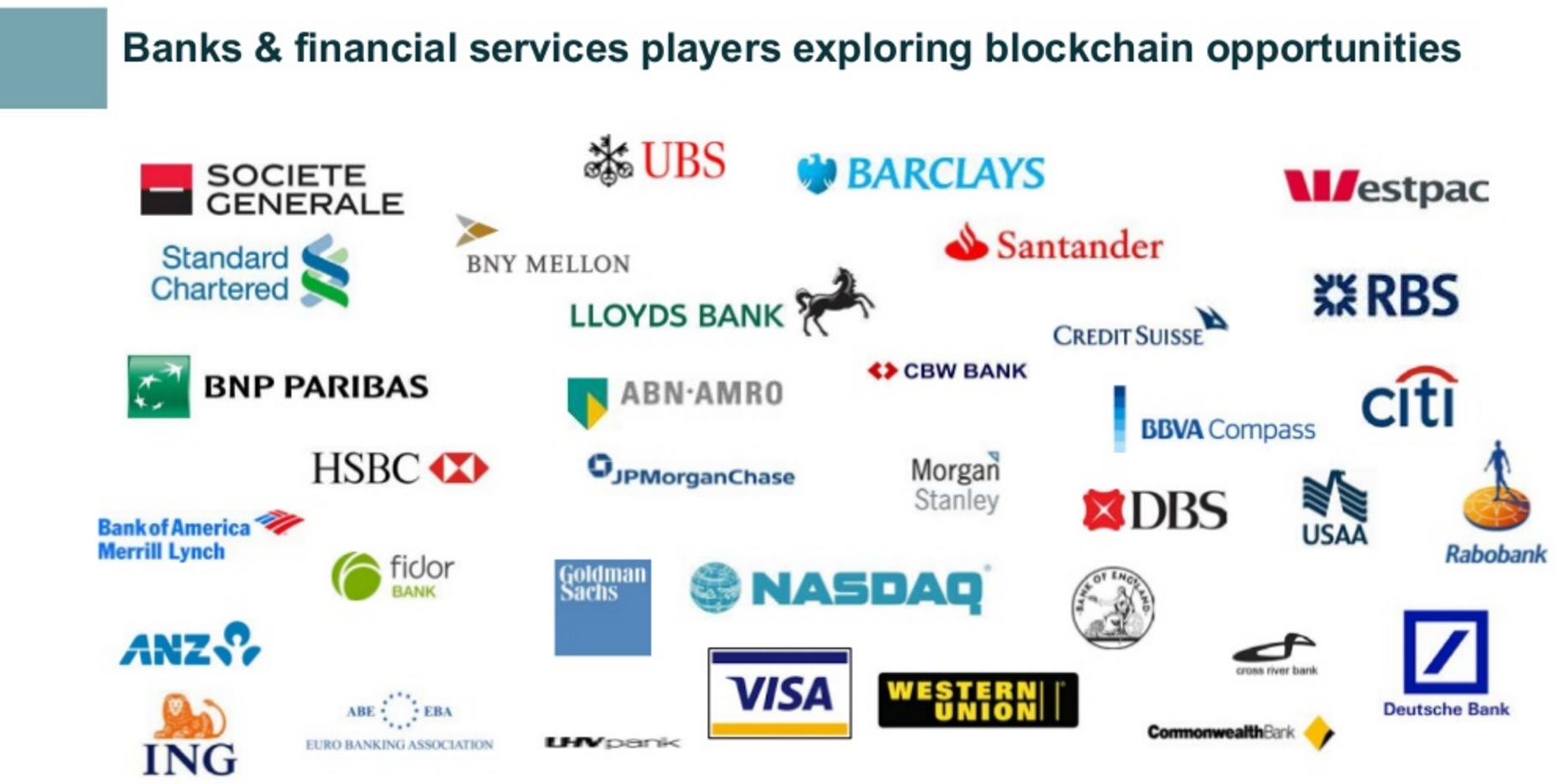 Banks and financial services exploring blockchain – Diana Biggs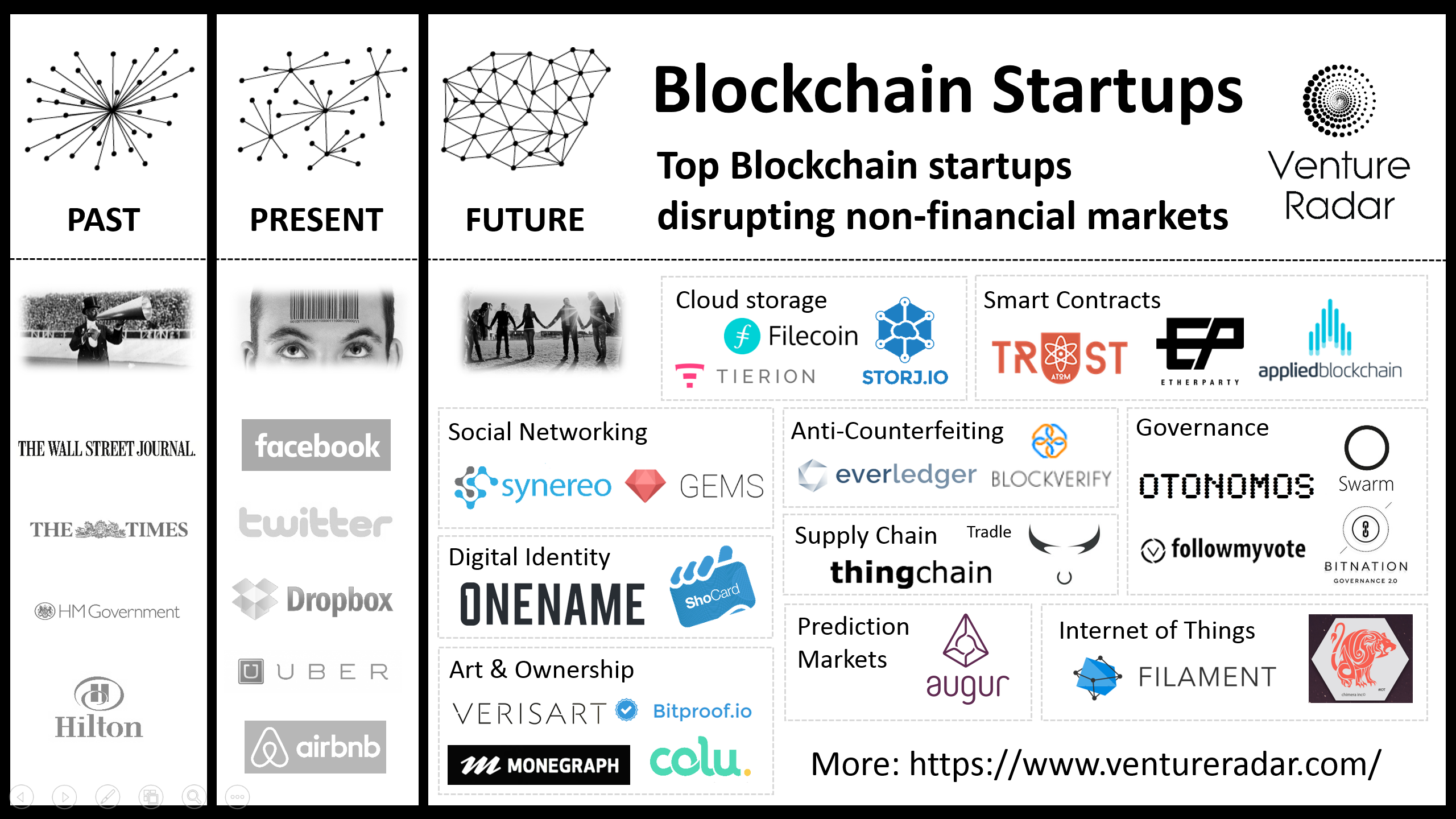 Blockchain startups